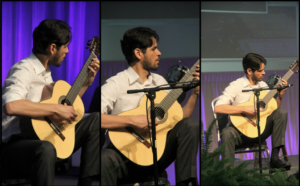 Rodrigo Jonas de Paiva was born in São Paulo, Brazil in 1981. Son of guitar musician Cleivan Paiva, Paiva lived much of his childhood in the city of Crato in northeast Brazil in the state of Ceará. Cleivan Paiva realized his son had a gift for music and started to teach him guitar while he was very young. Rodrigo began guitar lessons with his aunt's teacher. In addition, Paiva took piano lessons from Neide Barreto. As a boy, Paiva began participating in his father's concerts singing and playing on his keyboard.
In 1994, Rodrigo Paiva moved to São Paulo and continued to develop his musical skills by playing guitar with other musicians and listening to music. During his teenage years, he began to play the cavaquinho, an instrument similar to the ukulele, and participated in several musical groups improving his skills.
In 2001, Paiva joined the Free University of Music (ULM) and received an advanced-level certificate for popular guitar in 2008 under Professor Marco Prado. In 2007, Paiva joined the Cristal Group, recording 1 CD and 2 DVDs. In 2009, Paiva began his music education studies at the University Center Sant'anna, graduating in 2011.
Rodrigo Paiva moved to the United States in 2012. He currently lives in Thousand Oaks, California, performing as a guitarist and teaching music lessons in guitar and Ukulele. Moments, Paiva's first solo guitar CD, was released in 2013.
In 2018, Paiva joined the Shenandoah Conservatory and received a Diploma for Master of Music in classical guitar performance in 2020 under Professor Julian Gray.
In 2020, Paiva started a Doctorate program in classical guitar performance at the Shenandoah Conservatory under Professor Julian Gray.
Rodrigo Paiva has over 25 years of performance experience including recitals as a guitar soloist, playing in bands, weddings, and church groups.
He plays a wide-range of styles in his performances including selections from the Baroque, Classical, and Romantic periods, contemporary Christian, and his own solo guitar compositions.
Rodrigo Paiva's teaching experience spans over fourteen years and includes instructing students of all ages: adults, teenagers, and children. He offers private and group guitar lessons in Thousand Oaks, California area and surrounding communities.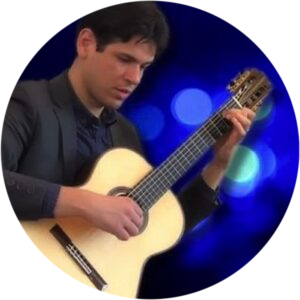 Follow Rodrigo Paiva on these sites: